Cozumel is a destination for those seeking adventure and relaxation, it is the largest inhabited island in Mexico. Located in the northern part of the Mexican Caribbean, it is the main destination for cruise ship arrivals in the country and the third worldwide.
Due to its crystal-clear waters with white sand beaches with turquoise blue tones, Isla Cozumel offers its visitors incomparable experiences in and out of the water, ideal for lovers of diving and snorkeling because it is located in the second largest barrier reef. of the world, just off the coast of Playa del Carmen.
Its natural beauty and unforgettable sunsets make Cozumel a paradise of adventure and tranquility.
The Island is approximately 48 kilometers long and 16 kilometers wide, 80% of its surface is a protected natural area.
Fantastic and quiet beach destination
Snorkeling and Diving Paradise
We love them the carnivals in Cozumel
Worldwide known for cruise tourism
Great destination for romantic trips, weddings, and honeymoons
Excelent choice for family trips
Cozumel´s weather is considered hot/warm most of the time
WHAT TO DO
The Arrecifes National Park from Cozumel, provides the main attraction; internationally recognized reefs as one of the best places to practice and get certified in diving.
It has 40 different dive sites, from caverns, tunnels and walls to sunken ships and colorful reefs, with depths ranging from 30 meters (100 feet). These are home to several species of marine fauna such as turtles, sharks, and splendid frogfish –endemic to the island–, among others.
Although diving is one of the main attractions of Cozumel, visitors can also tour the island on the perimeter road that surrounds the entire island and see the different white sand beaches. Dive into the dense Mayan jungle and visit the archaeological site of San Gervasio; or meet one of the restaurants that are on the boardwalk.
RESPONSABLE TOURISM
Like other destinations in the Mexican Caribbean, this island is characterized by having beaches with soft sand in light colors and turquoise sea. However, those who choose to vacation in Cozumel have a vital responsibility in caring for our environment.
Help us keep the reef healthy with your actions:
Ayúdanos a mantener sano el arrecife con tus acciones:
Do not use sunscreen in the sea, wear UV protective clothing.
Keep a 1.5 meters distance from the reef.
Do not leave waste in the sea.
Do not touch or feed the marine fauna.
Do not buy sea products as handcrafts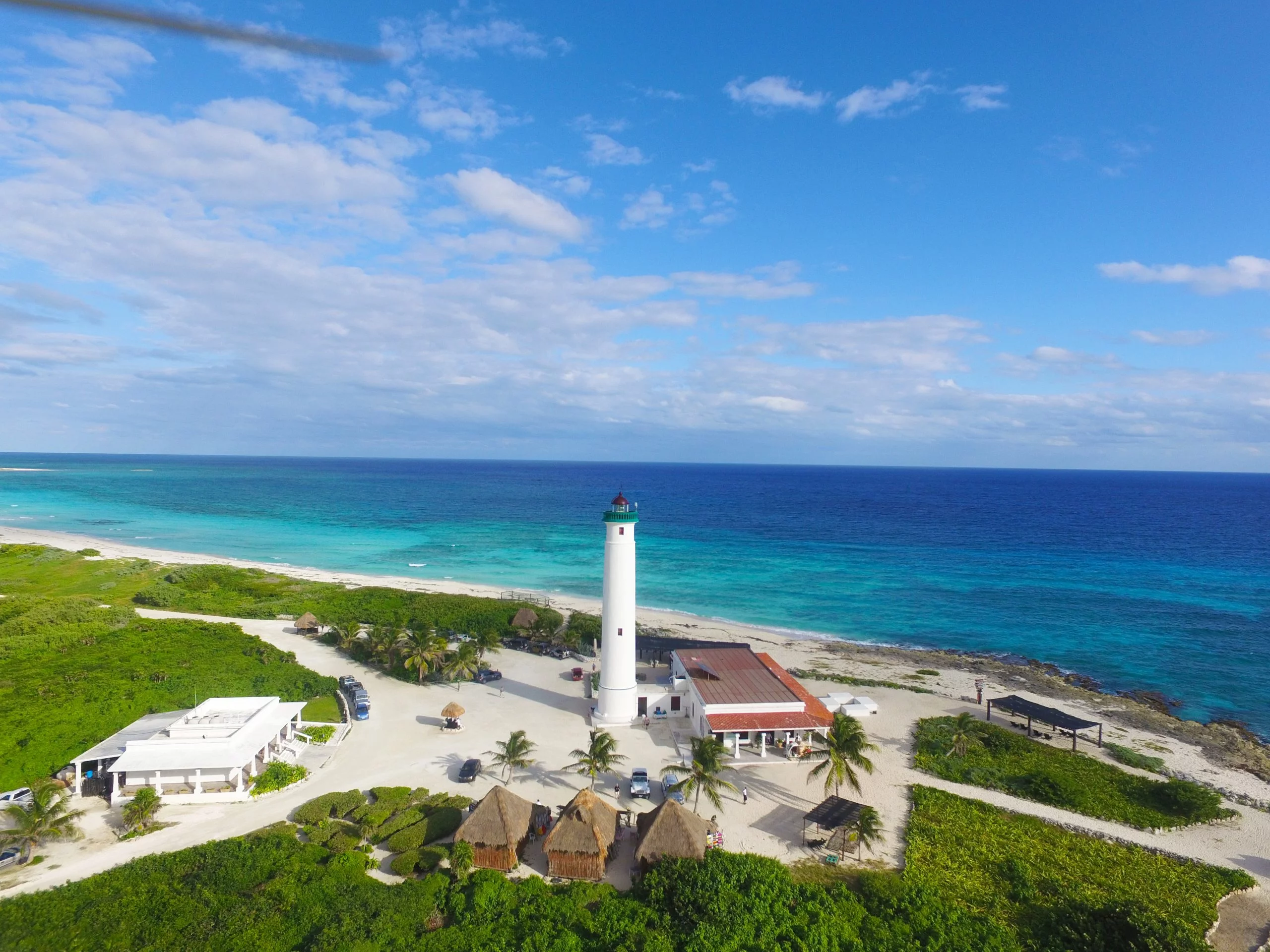 EXPLORE COZUMEL
In Cozumel you have the advantage of being able to go to beaches with low waves in the western area of the island, as well as other semi-virgin beaches with a slightly stronger sea current in the eastern part.
You can visit public beaches such as: Playa Palancar, Playa Mía Grand Beach Park, Playa San Martín, Playa Buccanos, Playa Chen Río, Playa Punta Morena, Playa Barracuda, Isla de la Pasión Cozumel, Playa Barracuda, Playa Azul, Los Parques Chankanaab and Punta Sur, to mention a few.
Take a tour to get to know this beautiful island: we recommend Wild Tours if you want to experience moments of adventure and fun. If you like to live the local experience more, the best option is The Mayan Cacao Company that will make you live moments like a Cozumel native.
You can also get to know a little more about this island using the trolley tour and travel on a beautiful tram that will guide you through the most important points of this beautiful destination.
THE ISLAND OF SPORTS
Cozumel has become the preferred venue for various national and international sports activities and events such as GFNY Cozumel, Ironman 70.3 Cozumel, Astri Cozumel, Ironman Cozumel, Ocenman, Mayanman, Scuba Fest, Travesia Sagrada Maya.